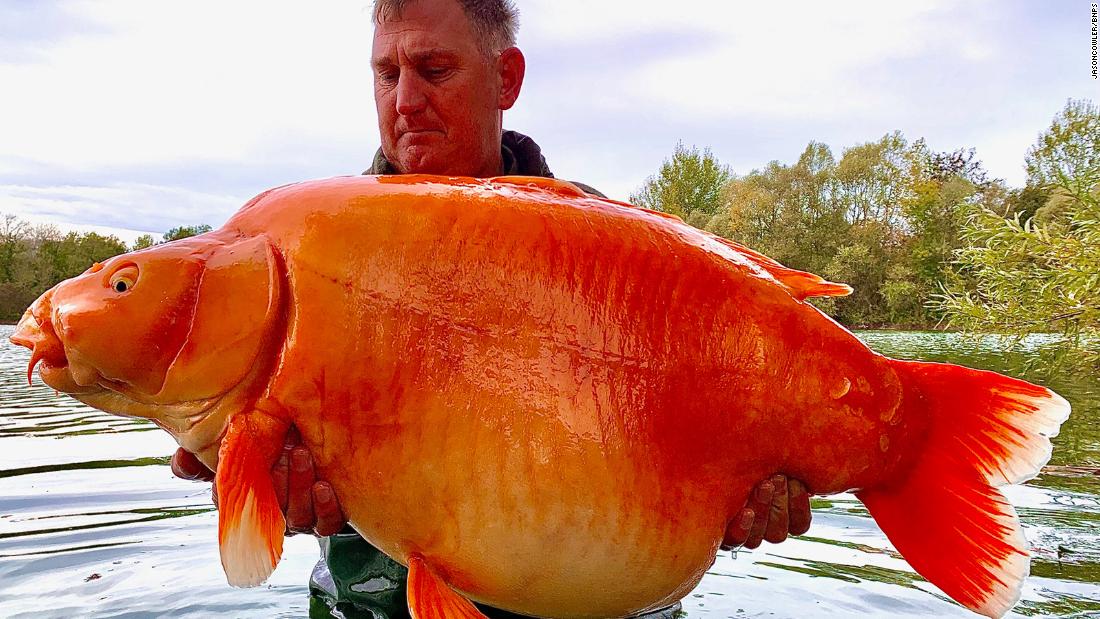 (CNN) — Here's a fisherman's story that's no tall tale.
With its striking orange color, the massive goldfish-like creature easily stands out as it swims below the water's surface. The Carrot, however, has proven to be a challenge to catch. Hackett landed the prized fish, a hybrid of a leather carp and a koi carp, on November 3 while visiting the lake site.
BlueWater Lakes provides anglers with a private spot to try a hand at pulling in one of its many fish weighing over 50 pounds (22.7 kilograms) — and some even over 90 pounds (40 kilograms).
The fishery has monitored Carrot's growth fairly often, as she was pulled in nine times by fishermen last season. After breaking the 60-pound (27-kilogram) mark for the first time in February, the carp swam free for nine months until Hackett reeled her in.
Ever-growing goldfish
The growth seen in these hefty fish is referred to as indeterminate growth, a condition in which animals grow rapidly when young and continue to increase in size after reaching adulthood, according to Hogan.
"They just keep growing, the longer that they live," Hogan said. "It'll just keep growing and getting bigger, and maybe in a few years someone else will catch it and it'll be even bigger."
Top image: Angler Andy Hackett lands one of the world's biggest goldfish ever caught. The gigantic orange specimen, aptly nicknamed The Carrot, weighed a whopping 67 pounds, 4 ounces.