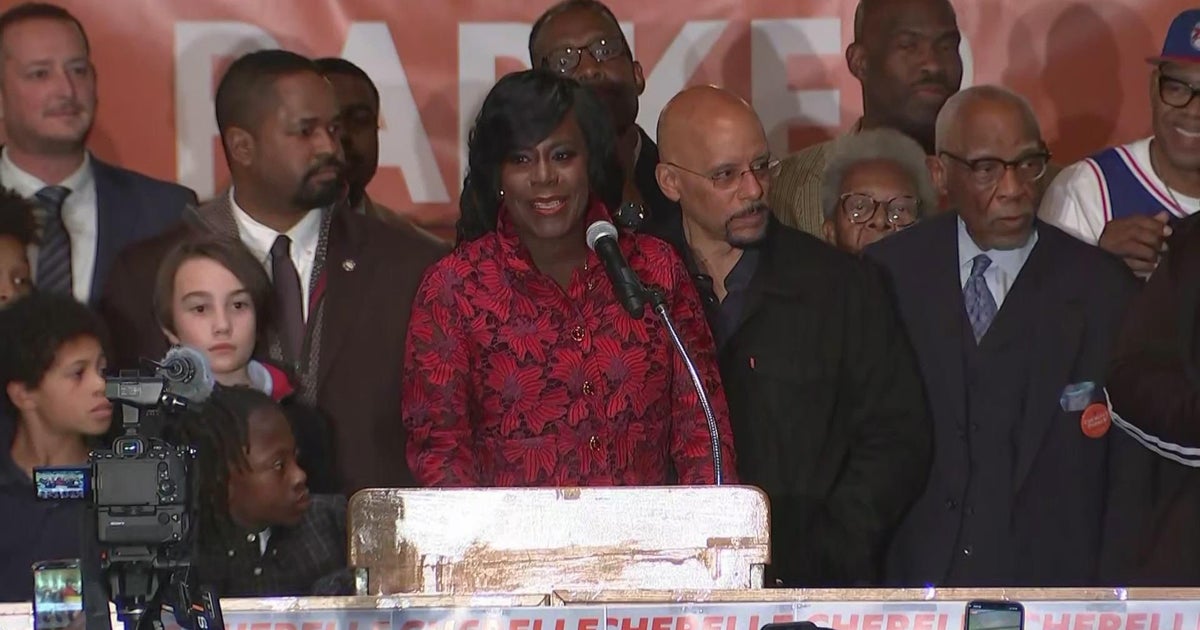 PHILADELPHIA (CBS) — Cherelle Parker will be Philadelphia's 100th mayor and the first woman to lead the city. Parker won the city's mayoral general election, CBS News projects Tuesday night. 
Parker ran against Republican David Oh, her former colleague on Philadelphia City Council.  As of Tuesday night, Parker has 207,007 votes (74.5%) compared to 70,751 (25.5%) for Oh with 92% of the vote counted.  
Parker emerged before her victory speech in a celebratory fashion, dancing to multiple songs by Jay-Z and Queen Latifah at Sheet Metal Workers Local 19 in South Philadelphia. 
ELECTION RESULTS: Follow 2023 Election Day races in Pennsylvania and New Jersey
"When it comes time for us to have discussions about tough issues, guess what we won't do? We won't tip-toe through the tulips. We don't care about the race, the class, the socioeconomic status, the zip code, the religion, the sexual orientation, the identity, no matter where we went, our message stayed the same," said Parker, who was blanketed by a number of politicians and city officials. "And guess what I learned during that time Philadelphia? They were yearning for authenticity."
Parker got emotional about her humble beginnings as she laid out her vision for the city where she was raised. Parker was born to a single teenage mom and raised by her grandparents, James and Dorothy Parker. 
Parker has spent 17 years in government, serving as a Pennsylvania state representative and a Philadelphia city council member. She resigned from city council in September 2022 to run for mayor. 
She went to Philadelphia public schools and was raised by her grandparents, and she became the first person in her family to go to college. 
"I am not superwoman, I make it look super easy because I have a great village," she added. 
Part of that village was former city councilwoman Marian B. Tasco, her longtime mentor. 
Parker worked as an intern for Tasco in high school. Parker was eventually lured back to council by Tasco after becoming a high school English teacher and ESL teacher working with immigrant children and adults and she became one of Tasco's most trusted advisers.  
During her acceptance speech, Parker referred to Tasco as "boss lady" as she walked up to the stage. 
"My life should be a textbook case study on how you turn pain into power," Parker said. 
The mayor-elect emerged from a deep Democratic primary field in May to secure her spot as her party's nominee. 
In an interview with CBS News Philadelphia's Ukee Washington last week, Parker said she aims to make Philly the "safest, cleanest, greenest" big city in the nation. She also said she wants to implement a "comprehensive neighborhood safety community policing plan" she championed on city council. 
Parker said the plan calls for more police officers on the streets of Philadelphia with a focus on community policing. She stressed the plan would call for zero tolerance for misuse and abuse of authority, and that body cameras will be an essential part of the plan. 
Parker echoed those same sentiments during her acceptance speech. 
"You won't be able to go into a store and steal $499 worth of merchandise and just think it's OK," Parker said. "We have to have a sense of order in this city. While we're doing that, let's understand this. Zero tolerance for any misuse and abuse of authority for our law enforcement officers. They have to be there as guardians and not warriors."  
Hiring a new police commissioner will be atop Parker's to-do list as mayor after Danielle Outlaw resigned in September to take a job with the Port Authority of New York and New Jersey. John Stanford, Jr. is currently acting as interim police commissioner. 
Parker told CBS Philadelphia that she's looking both nationally and locally for a new top cop for the city. She said she wants someone who has experience with the Philadelphia Police Department — either current or past. 
"Whomever that future commissioner will be, he or she will share my vision and we have to have chemistry and trust," Parker said last week, "and I have to know that they will not be afraid, Ukee, of leading in the area of public safety." 
Parker opposes proposed safe injection sites as a strategy to fight the opioid epidemic and open-air drug market of Kensington. She said her plan would call for an intergovernmental approach with aggressive tactics and mentioned the National Guard being called in to assist as one possibility. 
As for the proposed Sixers arena, 76 Place, in Center City, Parker is undecided. She said she needs to first see the results of independent studies on economic and community impact, which have been commissioned by the city, before making a decision. 
Parker will take office in January 2024, when Mayor Jim Kenney's second term expires. 
Parker said she spoke with President Joe Biden and Vice President Kamala Harris following her historic projected win. She said Philly can't be successful without support from the White House and both President Biden and Vice President Harris vowed to help.
"It's now time for us to unite as one Philly," Parker said.