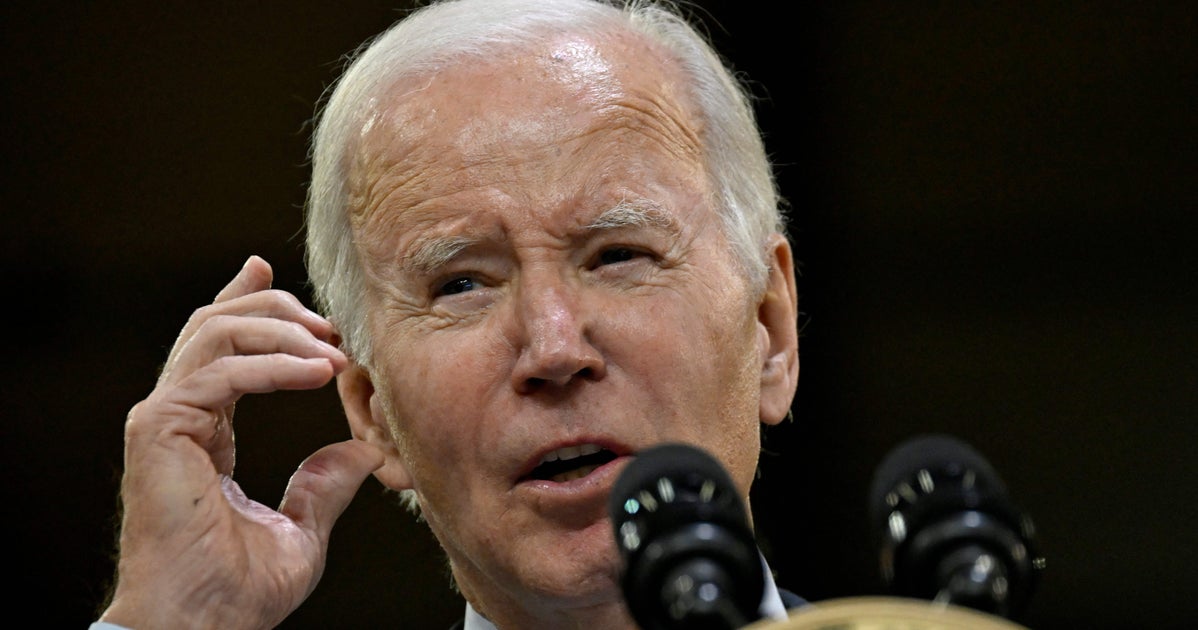 Joe Biden says he asked Israeli Prime Minister Benjamin Netanyahu to put in place a humanitarian pause in Gaza during their phone call Monday, in the latest sign that the Biden administration is putting pressure on Israel to temporarily halt its fight against the Hamas militant group.
The president told reporters he had conveyed that request to Netanyahu during their conversation but did not provide further details.
"I didn't get a chance to talk to him today," Biden said Tuesday. "I did ask him for a pause in the past — yesterday. I'm still waiting to hear from other people."
Biden's comments follow a report by Axios, citing two Israeli and U.S. officials, saying the president called on Netanyahu to back a proposal being discussed among the U.S., Israel and Qatar for a three-day pause to fighting in exchange for the release of up to 15 hostages by Hamas. The militant group would also have to use those days to release a list of the names of the people that remain in its custody, the report said.
Israel has estimated about 240 people are in the custody of Palestinian militant groups.
Netanyahu, however, according to Axios, expressed concern that Hamas could take advantage of a pause of this length to attack Israeli soldiers as it's done in the past and also worries that Israel could lose support for its military operation in the international community, among other things.
There are already signs that some world leaders are growing uneasy over the pictures coming out of Gaza.
Belgian Prime Minister Alexander De Croo, who has supported Israel's right to defend itself following the brutal Oct. 7 attack by Hamas that killed over 1,400 people, called Israel's strikes on refugee camps "a bridge too far."
"Bombing an entire refugee camp with the intention of taking out one terrorist, I don't think you can say that is proportional," De Croo said.
The Biden administration is reportedly feeling "confident" that Israel is now appearing more open to the idea of a pause to hostilities, according to Politico. The war has so far killed over 10,000 Palestinians, Gaza's health ministry said.
"The two leaders discussed the possibility of tactical pauses to provide civilians with opportunities to safely depart from areas of ongoing fighting, to ensure assistance is reaching civilians in need, and to enable potential hostage releases," states the readout of Netanyahu and Biden's call released by the White House Monday.
Netanyahu, during an interview with ABC's David Muir, after he spoke to Biden, said he would potentially entertain pauses for a number of hours but ruled out a wider cease-fire until the Hamas militant group frees all hostages.
"As far as tactical little pauses, an hour here, an hour there, we've had them before, I suppose, we'll check the circumstances in order to enable goods, humanitarian goods to come in, or our hostages, individual hostages to leave," Netanyahu said.
Asked about what Israel envisions for Gaza's future, Netanyahu added that his country "for an indefinite period will have the overall security responsibility" of Gaza, in an apparent divergence from the Biden administration's position on the issue.
Biden, who supports a two-state solution, previously told CBS' "60 Minutes" that it would be a "big mistake" for Israel to reoccupy Gaza.
The White House echoed Biden's remarks during a press briefing Tuesday.
"We're having active discussions with our Israeli counterparts about what post-conflict Gaza looks like," said John Kirby, the National Security Council's coordinator for strategic communications. "The president maintains his position that reoccupation by Israeli forces is not the right thing to do."