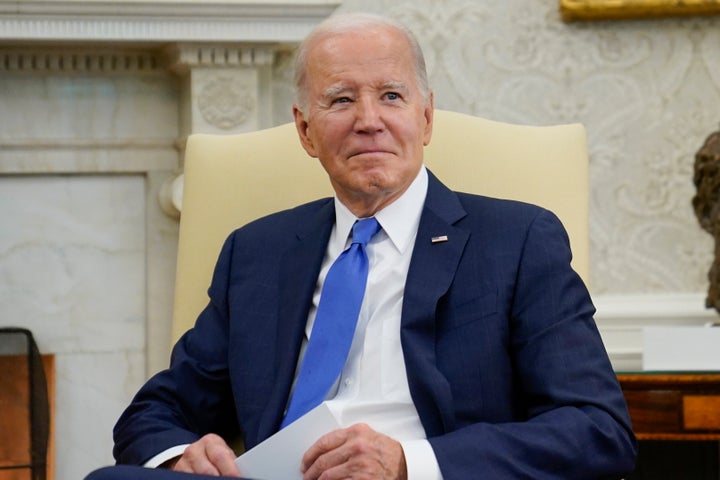 President Joe Biden hit a milestone on Tuesday that he'll certainly be touting on the campaign trail: He's put 150 people into lifetime federal judgeships – and of those, 100 are women and 98 are people of color.
It's a solid number of Article III judges to be confirmed by this point in a presidency — these judges get lifetime appointments and serve on district courts, appeals courts and the Supreme Court. But Biden is ).
"Are they talking about the district court nominee who had never tried a case, and had instead worked as a ghost hunter?"

– Sen. Dick Durbin (D-Ill.), wondering why Republicans miss Trump's court picks
Curiously, tucked into Biden's statement and the White House memo is a vow to fill "every judicial vacancy." Progressives have been pushing for this kind of action from the White House for months. It's not clear if this language signals a more aggressive stance by the White House or is simply a rhetorical flourish.
Either way, it would be incredibly difficult to pull this off: There are nearly 100 court vacancies waiting to be filled, most of which don't have a nominee in the queue. This is largely due to Republicans not working with the White House to fill vacancies in their home states and Durbin still honoring the Judiciary Committee's "blue slip" courtesy that allows GOP senators to unilaterally tank Biden's court picks from their home states.
"We see examples every week of how much damage Trump judges are doing to the rights we hold dear. So it is essential that we surpass the Trump administration's impact on the courts," said Rakim Brooks, president of Alliance for Justice, a progressive judicial advocacy group. "There must be a plan to overcome the hurdle of blue slips and fill every vacancy. The real celebrations start when Biden and Senate Democrats reach 235."
Brooks is referring to Trump confirming a total of 234 judges as president and the need for Democrats and Biden to surpass that number.
A White House spokesperson did not respond to a request for comment on whether it plans to try to fill every judicial vacancy.
"President Biden has appointed the most diverse group of judges in history, and at a time when our courts are in desperate need of balance, he is right to say he is committed to filling all vacancies with excellent nominees," said Colin Diersing of Demand Justice, another progressive judicial advocacy group. "Demand Justice will continue to advocate for policies that support that goal."