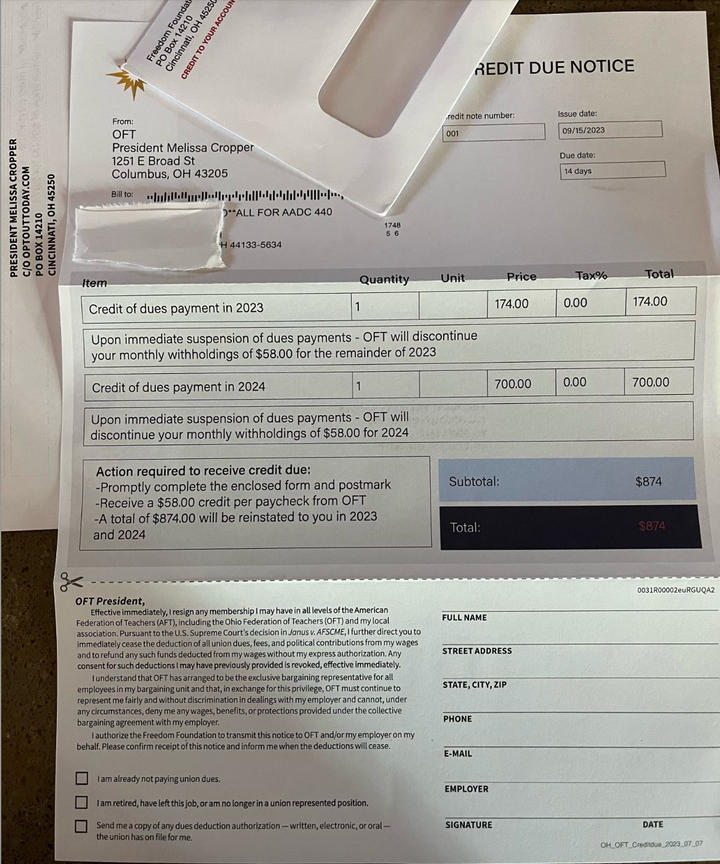 Public school teachers in Ohio recently got some surprising news in the mail: They were due a "credit" from their union.
Melissa Cropper, president of the 20,000-member Ohio Federation of Teachers, was listed as the sender of the "CREDIT DUE NOTICE." All educators had to do was fill out the attached form and mail it back for an apparent refund.
There was just one problem. The notice didn't actually come from Cropper or the union ― it came from the Freedom Foundation, a conservative group whose mission is to get teachers and other public sector workers to drop their union membership.
Anyone who carefully read the form would see that by signing it, a teacher would be authorizing the Freedom Foundation to submit it to their union and employer on their behalf to renounce their membership.
"People are really pissed," said Randi Weingarten, president of the in particular, pushing laws designed to make it harder for the groups to hang on to members and influence education policy.
This right-wing cause got a major lift from the Supreme Court in 2018.
The conservative majority ruled in its landmark case Janus v. AFSCME that public sector workers could not be required to pay any dues to a union, even if the union is still legally obligated to represent them. The decision effectively made the entire U.S. public sector "right to work," and forced public sector labor groups to change the way they operate and focus more on member retention.
After the ruling in Janus, the Freedom Foundation started pouring resources into campaigns encouraging workers to drop their unions. The recent Ohio mailers were part of a project called "Opt Out Today."
It's difficult to unpack how the Janus decision has affected teachers unions nationally so far, in part because membership hinges on school staffing levels that fluctuate. The Freedom Foundation claims teachers have been opting out of AFT "in droves," but Weingarten says this doomsday scenario has not come to pass.
"They used Janus to try to defund unions. What's happened in terms of our union is, it hasn't worked," she said. "But the amount of time, energy and effort we have to spend correcting the record and dealing with these misrepresentations and out-and-out lies, that takes time away from us servicing the members."
Weingarten said the Freedom Foundation's use of the "credit due" mailer is a sign of "desperation." She noted that in the group's Oct. 12 response to the union's cease-and-desist letter, the group said that it had "not forwarded a single request to opt-out received recently" from the Ohio mailer campaign.
The union demanded a list of all members who received the mailers, but it says the Freedom Foundation hasn't provided one yet. The union suggested in a follow-up letter that it might pursue legal action.
"The AFT reserves all rights," the letter read.