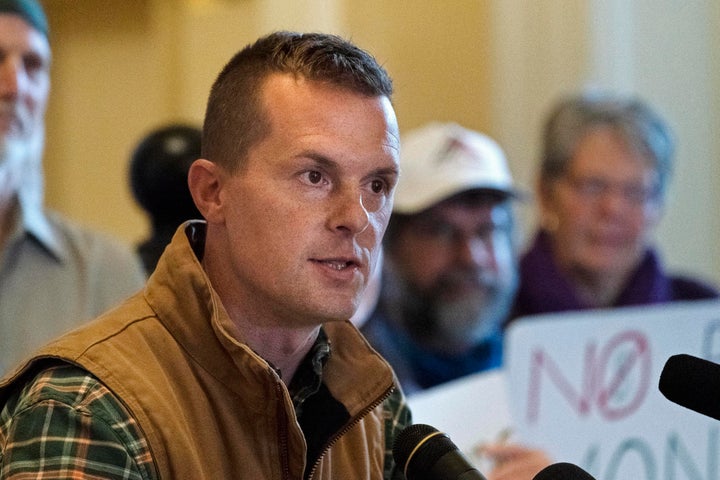 Once again, on Friday, President Joe Biden toured the site of a mass shooting — this time in Lewiston, Maine — and renewed calls for ".
(The Sportsman's Alliance did not return multiple requests for comment from HuffPost.)
For a Maine judge to issue a protective order separating an individual from their firearms, police have to do a lot more work. A friend or relative can tell police that they are concerned about someone, but it's up to law enforcement to agree to place the individual in protective custody and have them evaluated by a medical expert, who needs to agree that the individual is at risk of harming themselves or others.
"It created obstacles that did not exist in the states that have red flag laws," said Margaret Groban, a former federal prosecutor who now teaches firearms law at the University of Maine School of Law.
Asked about the due process concerns, Groban told HuffPost, "I don't accept those as valid."
Red flag laws already provide the opportunity to argue one's case before a judge, and judges are used to evaluating claims made in other contentious settings, she said.
"These are done under penalty of perjury," she said of the red flag requests. "The same argument is made in the protection order context, that people will make false accusations, and they will manipulate that for either a divorce proceeding or a custody proceeding or something like that."
"It's up to a judge to determine whether or not there's sufficient evidence," she said, adding, "They should be able to see through that."
After the Lewiston shooting, Democrats in Maine — which has a Democratic trifecta — have indicated they will look at gun control again next legislative session.
States are being actively encouraged to pass red flag laws. The gun safety package passed by Congress in 2022, around a month after the mass shooting at an elementary school in Uvalde, Texas, contained incentives for such legislation.
If the recent past is any indication, though, that will be a tall order.
Former Arizona Gov. Doug Ducey (R) once voiced support for such laws, but in 2020, he declared, "As long as I am governor, there will be no red flag law in the state of Arizona." Ohio Gov. Mike DeWine (R) backed off support for a red flag law in 2019, just a couple of months after a shooter killed nine people in Dayton. Tennessee Gov. Bill Lee (R) has faced stiff opposition from GOP colleagues to a red flag law this year after a shooter took six lives at Nashville's Covenant School.
On the national stage, the fight for gun control has also been stymied by Republicans. Universal background checks would close a gaping loophole that allows people who fail a background check from a licensed dealer to simply buy one from a private seller; the Biden administration has attempted to tackle the problem in a roundabout way amid Republican stonewalling. A federal bump stock ban — enacted by the Trump administration — is currently being challenged in the courts; the Supreme Court agreed this week to take up the case. And the kind of national ban on assault-style weapons Biden has called on lawmakers to pass seems dead in the water.
Polling repeatedly shows strong support from Republican and Democratic voters for tighter gun control policies — if one there was the political willpower to actually do it.
Andy Campbell contributed to this report.