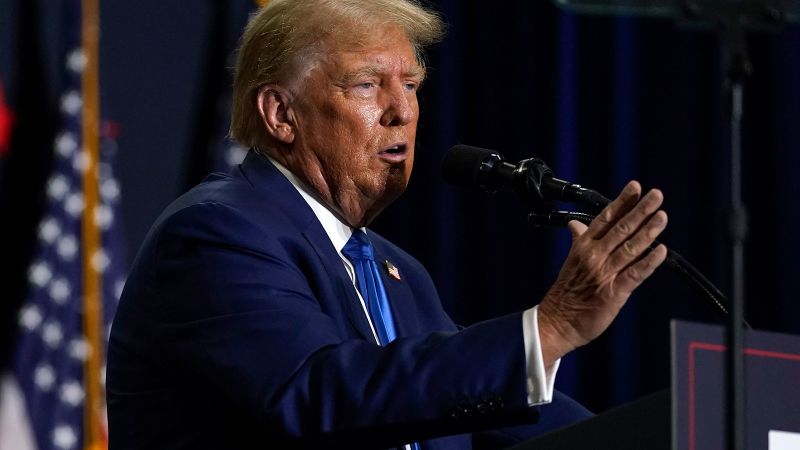 Former President Donald Trump made numerous false claims in a campaign speech Monday in New Hampshire.
Trump falsely claimed that the United States had no terrorist attacks during his presidency. He falsely claimed that Republican presidential rival Nikki Haley had initially proposed "to flood" the US with refugees from Gaza.
He repeated his frequent lie that the 2020 election was "rigged" and "stolen." He wrongly described an exchange he had with Joe Biden and a moderator during a 2020 presidential debate.
And he repeated a variety of familiar false claims from his presidency. Those included his regular assertion that no previous president had secured any revenue from tariffs on China – in fact, the US has had tariffs on Chinese goods for more than two centuries and was taking in billions per year under his predecessor – and his old story about approving a policy that supposedly gave 10 years in jail to anyone who damaged a monument; that's not what his executive order did.
Trump also claimed with no evidence that Biden has received money from China.
Below are more detailed fact checks of Trump's inaccurate claims about terrorist attacks under his watch and Haley's stance on accepting refugees from Gaza.
Trump's false claim about terrorist attacks during his presidency

While criticizing Biden for his handling of Iran and national security matters, Trump made a significant false claim about his own national security record in office – wrongly declaring that there were no terrorist attacks in the US during his presidency.
"If you notice, all of the problems, all of the big problems, they all stopped. And I never talked about it during my four years, but look what happened: we didn't have any attacks in the United States for four years," Trump said in a campaign speech in New Hampshire.
Trump touted his ban on travel from "horrendous, dangerous nations," most of which were Muslim-majority countries. Then he repeated, "But we didn't have an attack for four years."
Facts First: Trump's claim that "we didn't have an attack for four years" isn't true. The claim is inaccurate even if he was referring specifically to attacks by Islamic extremists.
Trump's own Justice Department alleged that a mass murder in New York City in 2017, which killed eight people and injured others, was a terrorist attack carried out in support of ISIS; Trump repeatedly lamented this attack during his presidency. Trump's Justice Department also alleged that a 2019 attack by an extremist member of Saudi Arabia's military, which killed three US servicemembers and injured others at a military base in Florida, "was motivated by jihadist ideology" and was carried out by a longtime "associate" of al Qaeda.
In addition, there were a variety of other terrorist attacks during Trump's presidency. Notably, Trump's Justice Department said it was a "domestic terrorist attack" when one of Trump's supporters mailed improvised explosive devices to prominent Democratic officials, CNN and other people in 2018.
In 2019, a White supremacist pleaded guilty to multiple charges in New York, including first-degree murder in furtherance of an act of terrorism, for killing a Black man in March 2017 to try to start a race war. And Trump's Justice Department described a 2019 shooting massacre at a Walmart in Texas as an act of domestic terrorism; the gunman who killed 23 people was targeting Latinos.
Trump's false claim about Haley and refugees from Gaza

Trump claimed that Nikki Haley, his Republican presidential rival and his former US ambassador to the United Nations, had proposed the US to take in a large number of refugees from Gaza.
"But she flip-flopped – last week, you saw that disaster – after proposing to flood America with refugees from Gaza. Oh, that sounds like a wonderful idea, doesn't it," Trump said in a speech in New Hampshire.
Facts First: Trump's claim is wrong. Haley did not propose taking in a large number of refugees from Gaza. Trump was falsely portraying her October 15 response to a question from CNN anchor Jake Tapper that was not even about US refugee policy toward Gaza.
Similar claims about Haley's remarks to Tapper have been made by the campaign of another Republican candidate, Florida Gov. Ron DeSantis, whom Trump also criticized in his Monday speech. CNN fact-checked the DeSantis camp's claims last week.
As CNN explained in that previous fact check, Haley never said anywhere in her comments to Tapper that she wanted the US to take in refugees from Gaza.
Rather, the former South Carolina governor was asked by Tapper for her thoughts about DeSantis having said that while the people of Gaza are not all Hamas, "they are all antisemitic" and "none of them" believes Israel has the right to exist. Haley responded that many Gazans don't want to be ruled by Hamas, just as many Iranians oppose the regime that governs them, and the US should continue to distinguish between terrorists and civilians.
She did not say the US should take in any of these Gaza civilians as refugees. And in subsequent remarks, Haley has expressed firm opposition to the US accepting refugees from Gaza. She argued on Fox last Tuesday that "Hamas-sympathizing" Middle Eastern countries should take in these refugees instead.