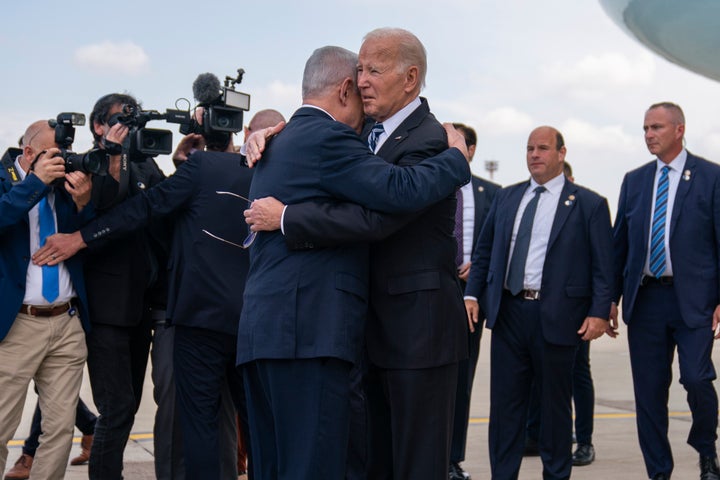 United in a desire to stop mounting bloodshed, a group of about 30 Arab American leaders and activists convened at the Hanini Outreach and Community Center in Dearborn, Michigan, on Oct. 16 to discuss how to respond to the Israeli bombardment of Gaza.
Those Arab American activists who attended the meeting shared their outrage at what they see as President Joe Biden's lopsidedly pro-Israel approach to the current war between Israel and Hamas, the Islamist group that governs the Gaza Strip. They want Biden to pressure Israel for a cease-fire and end what they see as Israel's reckless disregard for Palestinian civilians, as well as recognize that the best way to end Palestinian violence toward Israel would be to address Palestinians' legitimate grievances. They all agreed that they would not vote for Biden under virtually any circumstances and would encourage their fellow Arab Americans to do the same.
"You take my vote, you take my money and then you spit on me?" one of the attendees, Osama Siblani, publisher of The Arab American News, told HuffPost. "They are racist, and they are dealing with our people like trash. And we are going to teach them a lesson come November. We're not going to vote for them."
Hussein Dabajeh, a senior aide to Wayne County Commissioner Sam Baydoun and head of his own political consulting firm, is leading the formation of a political action committee that will serve as the central body pushing for a boycott of Democratic candidates who fail to speak out against Israeli bombardment and for Palestinian rights. Dabajeh, who was at the Oct. 16 meeting, told HuffPost that donors have been lining up to bankroll the effort.
The prospect of swing-state Michigan's sizable Arab and Muslim population sitting out the 2024 election is the most visible domestic political challenge facing Biden following his embrace of Israel in the wake of a massacre of 1,400 Israelis in an unprecedented Hamas attack on Oct. 7. But it's just one of many facing the president and his campaign as they work to navigate the politics of the issue, which have been altered both by the increasing liberalism of young voters and the simple fact that the Arab and Muslim populations in the United States continue to grow.
Biden, a longtime Israel supporter who identifies as a Zionist, was greeted like family during his brief visit to Israel on Wednesday, physically embracing right-wing Israeli Prime Minister Benjamin Netanyahu.
But the Oct. 16 meeting in Dearborn underscores a more complex political reality for Biden on the homefront, particularly among Democratic base voters. The deaths of more than 5,000 Gazans, including thousands of children, in Israeli airstrikes weighs heavily on those voters. And there are signs that the broader public opinion in America is more sympathetic toward Palestine than in the past.
"People are not asking him to use the term 'war crimes'; people are asking him to use the word 'restraint.'"

– Shibley Telhami, University of Maryland
Polling on the conflict is highly sensitive to question wording, though a CNN/SSRS poll released last week found that 96% of Americans were sympathetic to the Israeli people while 87% said they were sympathetic to the Palestinians. The same poll found that 50% of Americans said the Israeli response to the attack was fully justified, with 20% more saying it was partially justified. (Other polls have found larger gaps between how sympathetic Americans are to Israelis and Palestinians, and polls are essentially unanimous in finding more Americans sympathize with Israelis rather than the Palestinians.)
Democrats and young people are the clear drivers of increased sympathy for Palestinians. A full 91% of people ages 18 to 34 have sympathy for the Palestinians, and only 57% of 18- to 34-year-olds said the Israeli government's response was fully or partially justified, according to the CNN poll.
The same poll showed 99% of Democrats said they had sympathy for the Palestinian people, with 49% saying they had "a lot" of sympathy. And just 38% of Democrats said the Israeli response was fully justified, with 30% calling it partially justified.
"[Biden's] one-sided approach does not correspond to where Democrats are in general," said Shibley Telhami, a politics professor and public opinion specialist at the University of Maryland.
"People are not asking him to use the term 'war crimes'; people are asking him to use the word 'restraint,'" Telhami added. "There is a real problem in the appearance that he is not valuing the lives of civilian casualties."
Among other complaints, Telhami expressed outrage at Israel's decision to cut off water, electricity, food, and fuel from Gaza, and at the inability of U.S. citizens trapped in Gaza to gain safe passage out through Egypt.
The White House has responded to critics by noting Biden's success in brokering the deal that led to the admission of 20 trucks of humanitarian aid into Gaza through Egypt ― over Republican objections ― and his repeated his opposition to Islamophobia and the conflation of Hamas with Palestinian civilians. The Biden administration has also leaned on Israel to delay its ground invasion of Gaza to create more time to negotiate the emancipation of hostages, allow in humanitarian aid and devise plans for the protection of civilians.
In addition, the White House touts its investment in communication with, and outreach to, progressive, Arab American and Muslim critics within the administration itself. White House chief of staff Jeff Zients and senior adviser Anita Dunn have twice met with Arab American and Muslim White House staffers to hear their frustrations.
"They put in a lot of time with administration officials at all levels to listen to their concerns and their feelings about what's happening," said a White House official, who requested anonymity to speak freely. "They've done that with Jewish American appointees. They've done that with Arab and Muslim American appointees."
"People can be at once disappointed or disagree with certain policies but should understand that the reality is that this administration has to make difficult decisions, and standing by allies should probably not be one of them," the official added.
The Biden administration dispatched Dilawar Syed, the deputy administrator of the Small Business Administration and the highest-ranking Muslim official in the Biden administration, to speak on Biden's behalf at a vigil in Illinois for Wadea al-Fayoume, a 6-year-old Palestinian American killed by his landlord in what police say was a fit of Islamophobic rage.
Mourners booed during part of Syed's remarks, but other clips show the crowd applauding Syed's denunciation of Islamophobia and other forms of prejudice.
Biden's detractors ultimately want policy concessions rather than rhetorical gestures. Telhami called the U.S.-brokered humanitarian aid a "bandage" that treats Gaza civilians as victims of a natural disaster while failing to address the true causes of their hardship: the relentless Israeli air bombardments, which Israel says are aimed solely at Hamas militants, and the Israeli siege of the coastal enclave.
Alexis Zeidan, a Palestinian American activist in Dearborn who was present at the Oct. 16 meeting, grades Biden's handling of the Israel-Hamas war as "less than an F."
"When it comes to the Arab culture, people love us, but when it comes time to stand up for the Arab culture, people fail us," Zeidan said. "We're not talking about policies that are impacting the way our roads are built; we're talking about policies that have led to the death of a number of our brothers either back home or here."
The electoral consequences of attrition from voters who backed Biden en masse in 2020 are likely to be greatest in Michigan, which has the highest percentage of Arab American residents in the country. The state is home to more than 310,000 people of Middle Eastern or North African descent of varied faiths and more than 240,000 Muslims of varied ethnic backgrounds. Most Michigan residents who fit either description are concentrated in the Detroit area.
These Michiganders, who are broadly sympathetic to the Palestinian cause, played a critical role in boosting Biden's margins in Michigan. In the majority-Arab neighborhoods on the east side of Dearborn, Biden received 81% of the vote to Donald Trump's 17% in 2020. Biden won Michigan by about 150,000 votes, but polling shows a tighter race in the state in 2024.
"As a survivor of the January 6 attack on the Capitol, I know the kind of hate that the modern-day Republican Party is fueling in our country, so this is a particularly difficult moment for me as a Democrat."

– Abbas Alawieh, former chief of staff to U.S. Rep. Cori Bush (D-Mo.)
"Even if I am the vote that will decide whether Biden is president or not, I will not vote for Biden ― even if that means Trump becomes president again," said Adam Abusalah, a Palestinian American in Dearborn who attended the meeting. "We feel like he has betrayed us."
"Time and time again, we are told to choose the lesser of two evils, the lesser of two evils," added Abusalah, who was a fellow on Biden's 2020 campaign and served as communications director to Rep. Shri Thanedar (D-Mich.). "But now more than ever, it's clear that the lesser of two evils doesn't work."
Siblani, Abusalah and Zeidan all said that there is nothing that Biden can do to redeem himself in their eyes ahead of the presidential election.
"Not only are you seen as a failed leader, you are now seen as a murderer," Zeidan said. "And I don't think there's any reduction from that. People's lives matter."
Dabajeh offers only one unlikely circumstance in which Biden could win back his vote: the immediate recognition of a Palestinian state along Israel's pre-1967 border.
Abbas Alawieh, a former chief of staff to left-wing Rep. Cori Bush (D-Mo.) who recently returned to his hometown of Dearborn, is not willing to write Biden off yet.
"As a survivor of the January 6 attack on the Capitol, I know the kind of hate that the modern-day Republican Party is fueling in our country, so this is a particularly difficult moment for me as a Democrat," said Alawieh, who is calling for a cease-fire between Israel and Hamas. "My support is conditional on whether federal and statewide elected officials decide to take a different route, a route that embraces peace, a route that embraces saving lives, as it relates to Middle East policy."
Though Muslims have grasped the most political power in Michigan, their growing population ― there were just 2.4 million Muslims in the United States in 2007, compared with nearly 3.45 million in 2017, according to the Pew Research Center ― means they have increased political power in multiple other states, including Minnesota, Virginia and New Jersey.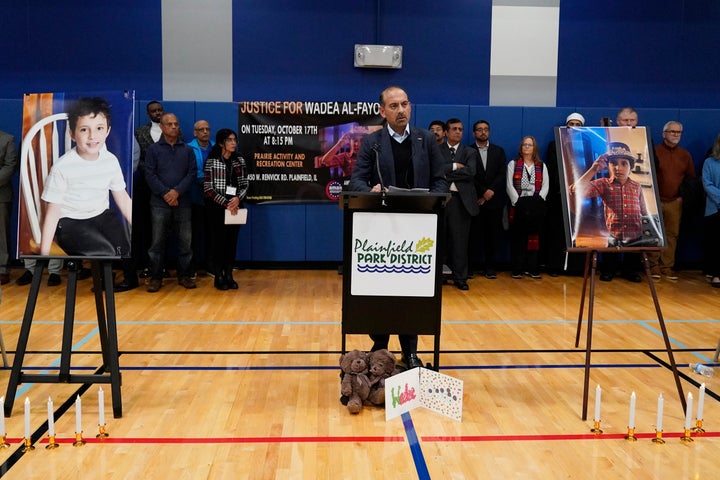 The growing population has also led to growing political prominence and to increased familiarity with other Americans. Americans who know a Muslim are more likely to have a favorable view of Muslims overall, according to a study released by Pew in March.
"To know Arab and Muslim Americans and to see them in their full humanity helps people understand that our call for a cease-fire is not a political position – it is an urgent plea to keep us and to keep our families here, and in Israel-Palestine and in Lebanon, alive," Alawieh said.
In seeking to accommodate voters who want to see him take a more balanced approach to Israel, however, Biden faces political risks of another kind. Jewish Americans with broadly pro-Israel views have long exercised outsize sway in Democratic circles, both through their activism and voting patterns and through their financial support for the Democratic Party.
In states including Pennsylvania, Georgia, Nevada and Arizona, pro-Israel voters ― Jewish and non-Jewish alike ― could play a decisive role in the outcome of the presidential election, according to Mark Mellman, a pollster who runs Democratic Majority for Israel, a group that has spent millions of dollars defeating strident Israel critics in competitive Democratic primaries. And in New York, where Democrats hope to claw back four House seats that Republicans flipped in 2022, pro-Israel Jewish voters could be a key part of Democrats' plan to retake the House, Mellman said.
"There's been a whole series of polls that all say the same thing: The American people generally and Democrats specifically are very much on Israel's side in this conflict," Mellman said.
Mellman, for his part, was skeptical that Muslim and Arab American activists would hold true to their anti-Biden pledge if the other choice is Trump, who on Monday renewed his vow to re-implement a ban on Muslims entering the country.
"As an analyst, it's hard for me to believe that when you actually get to the presidential election more than a year from now and you have Joe Biden, who has protected and advocated for civil rights, civil liberties for Arab Americans, against the guy who is a racist Islamophobe and instituted a Muslim ban, for God's sakes, it's just hard to imagine that people are going to go for the Muslim ban guy," he added.