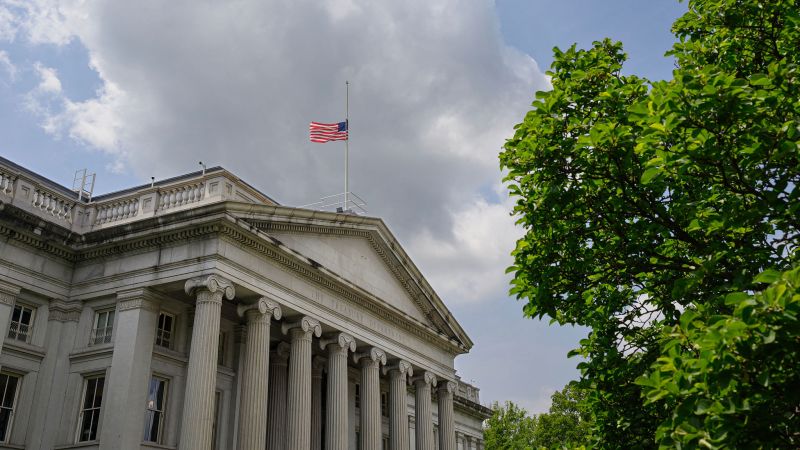 A version of this story appeared in CNN Business' Nightcap newsletter. To get it in your inbox, sign up for free, here.
There are two numbers floating around econ media headlines lately that are (as we journalists love to say) psychological milestones.
The numbers: five and eight. As in 5% yield on the 10-year T-bill, and 8% interest on the 30-year fixed rate mortgage. The two figures are closely related, and both are inviting ominous historical comparisons.
The 10-year Treasury yield, which goes up as prices fall, is flirting with 5% for the first time since 2007 (that's ominous comparison No. 1). The yield briefly breached the 5% last week, and again on Monday, before falling back down to 4.83% by the end of the trading day.
There are a few reasons that the 10-year has advanced so quickly since last year, when it sat around 4%, my colleague Nicole Goodkind writes.
Strong economic growth and elevated inflation tend to push yields higher.

The US Treasury has issued a lot of government debt in recent months, and more could be coming soon.

Those things bring down bond prices and push yields higher, attracting buyers.
Why it matters
Yields on long-term bonds may sound like something you slept through in Econ 101, but the reality of their movement hits much closer to home. Higher yields lead to higher borrowing rates for your car loans, credit cards, and student debt (payments on which just returned from a three-year hiatus), and, of course, mortgages.
The 30-year fixed rate mortgage is barreling toward 8% — a level not seen since the dot-com bubble popped in 2000. (And that is ominous historical comparison numero dos.)
Of course, 8% isn't special on its own, it's just a round number that helps illustrate how far we've come from just three years ago, when rates fell below 3%. And the milestone underscores just how crappy it is to try to buy a home right now. Because:
In addition to painfully high interest rates, prices on the homes themselves have soared.

Sellers don't want to list because there are so few homes available to move into.

Buyers are bowing out because there are so few homes on the market.

And thus sales are at a 13-year low.
My colleague Anna Bahney put all those factors into context:
Let's say you put down 20% on a median-priced home today, and finance the purchase with a 30-year fixed rate loan (currently 7.6%). That brings your monthly principal and interest payment to just over $2,500, according to ICE Mortgage Technology. That is nearly double the monthly cost from just two years ago, an increase of $1,200 a month.
Put another way: The monthly payment on an average home now requires 40% of the median household income, making housing the least affordable it's been since 1984.
None of this is expected to change soon.
To bring affordability back to long-term averages, said Andy Walden, vice president of enterprise research at ICE, it would take some combination of up to a 37% decline in home prices, mortgage rates dropping by 4 percentage points, or a 60% growth in median household incomes.
"Unfortunately, the upward shift in Treasury yields this week will likely make returning to 'normal' an even more challenging target to hit," Walden said.
OK, so…what do we do?
We're in a tight spot, yes, but it is, hopefully, a transition phase. After all, as the old maxim goes, the best cure for high prices is high prices.
"The sudden, rapid increase in bond yields will dissuade business investment and spending, which threatens to knock the US economic expansion off course in a way that the Federal Reserve's well-communicated incremental rate hikes did not," Moody's researchers said in a note.
The yield surge is sorta doing the Fed's work, in other words. Fed Chair Jerome Powell even acknowledged as much last week.
Wall Street appears to agree, and investors are betting that the central bank will keep interest rates steady at its policy meeting next week. For those keeping track at home: The Fed's two-day meeting starts, appropriately enough, on Halloween.
Enjoying Nightcap? Sign up and you'll get all of this, plus some other funny stuff we liked on the internet, in your inbox every night. (OK, most nights — we believe in a four-day work week around here.)