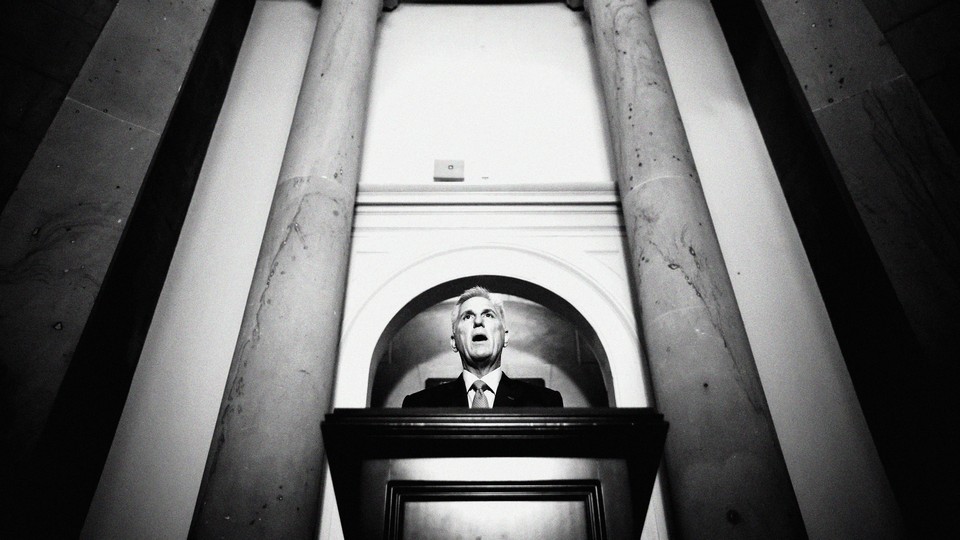 The speaker's abrupt impeachment probe against Biden is the latest sign that he's still fighting for his job.
, "it would occur through a vote on the floor of the people's House and not through a declaration by one person." By this morning, the speaker had reversed himself, unilaterally announcing an impeachment inquiry just as Pelosi did four years ago this month. (McCarthy made no mention of a House vote during his speech, and when reporters in the Capitol asked about it, a spokesperson for the speaker
told them
no vote was planned.)
The reason for McCarthy's flip is plain: He doesn't have the support to open an impeachment inquiry through a floor vote, but to avoid a revolt from hard-liners, he had to announce an inquiry anyway. Substantively, his declaration means little. House Republicans have more or less been conducting an impeachment inquiry for months; formalizing the process simply means they may be able to subpoena more documents from the president. The effort is all but certain to fail. Whether it will yield enough Republican votes to impeach Biden in the House is far from clear. That it will secure the two-thirds needed to convict the president in the Senate is almost unthinkable.
Barton Gellman: The impeachment of Joe Biden
McCarthy's announcement won praise from only some of his Republican critics. Barely an hour later, Gaetz delivered a preplanned speech on the House floor decrying the speaker's first eight months in office and vowing to force a vote on his removal if McCarthy caves to Democrats during this month's shutdown fight. He called the speaker's impeachment announcement "a baby step" delivered in a "rushed and somewhat rattled performance." A longtime foe of McCarthy's, Gaetz was one of the final holdouts in the Californian's bid to become speaker in January, when he forced McCarthy to grovel before acquiescing on the final ballot. "I am here to serve notice, Mr. Speaker," Gaetz said this afternoon, "that you are out of compliance with the agreement that allowed you to assume this role."
If McCarthy has become a hostage of the House hard-liners, then Gaetz is his captor—or, more likely, one of several. Publicly, the speaker has dared Gaetz to try to overthrow him, but caving on impeachment and forsaking a floor vote suggests that he might not be so confident.
The speaker is as isolated in Washington as he is in his own conference. Senate Republicans have shown no interest in the House's impeachment push, and they are far more willing to adhere to the terms of the budget deal that McCarthy struck with Biden and avert a government shutdown. Perhaps McCarthy believed that by moving on impeachment now he could buy some room to maneuver on the spending fights to come. But the impetus behind today's announcement is more likely the same one that has driven nearly all of his decisions as speaker—the desire to wake up tomorrow morning and hold the job at least one more day.