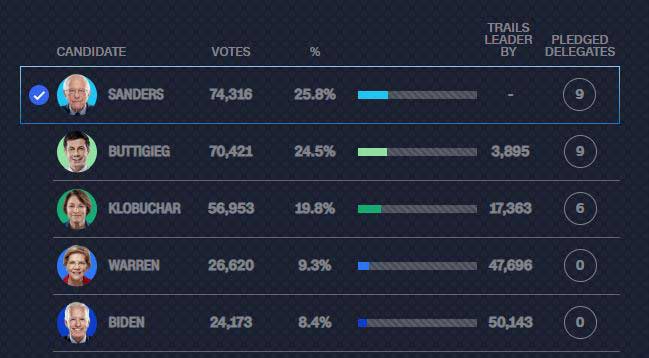 Vermont Senator Bernie Sanders won the New Hampshire Democratic primary on Tuesday. He beat Mayor Pete Buttigeig by less than 4000 votes at the last count.
Sen. Amy Klobuchar of Minnesota was third.
Perhaps the surprising result was turned in by Sen. Elizabeth Warren of Massachusetts who had been expected to do well considering the proximity of her state to New Hampshire. She finished fourth with 9.3 percent of the vote.
Former Vice President Joe Biden all but gave up New Hampshire when he announced during the day that he was leaving the state for South Carolina where he is expected to do well due to the state's demographics.
Iowa and New Hampshire are predominantly Caucasian while South Carolina and Nevada, the upcoming states, have their share of minorities and people of color.
Meanwhile former Governor Deval Patrick, businessman Andrew Yang and Sen. Michael Bennet announced Tuesday they were dropping out of the presidential race.
"I am so proud of this campaign. Thank you to everyone who got us here," Yang wrote on Twitter. "I stand before you today and say that while we did not win this election, we are just getting started," he said. "This is the beginning."
Sen. Bennet spoke of his love for the country.
"I love our country. I love the idea of democracy. And I want to pass it on to the next generation," he tweeted. "I feel nothing but joy tonight as we conclude this campaign and this chapter. Tonight wasn't our night. But New Hampshire, you may see me once again."